Singapore is an easy 5-minute train ride from Johor Bahru, and in no-time I was back in the country where I lived and studied last year. As a self-proclaimed Singapore expert, I made a full two-day itinerary for us, to quickly see as much as possible without draining our budget.
We checked in to our hostel, or igloo as we called it, as it was a sort of capsule with the AC set to "freezing", and then took the MRT to Sentosa Island. Here we had a good lunch in one of the many foodcourts, and chilled out at the Tanjong Beach Club. In the evening, we went to the magnificent Gardens by the Bay, to enjoy the lightshow that the "trees" display every night. We ended the day in the famous Marina Bay Sands indulging in a $16 Corona on the rooftop bar CeLaVi on the 58th floor.
On the following morning the Botanical Gardens became our destination. It is a great park with loads of different trees and flowers, as well as a renown orchid growing facility. Then did some more sightseeing around Singapore, had a coffee at Clarke Quay, and beers in Gorden Ramseys "Bread Street Kitchen".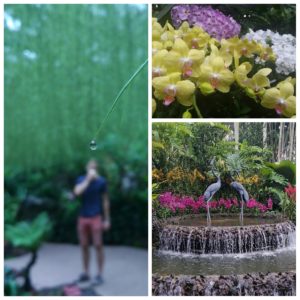 From Singapore we took a 1,5-hour flight to Jakarta, Java, Indonesia. After a few days in one of the most populous cities in the world, hosting more than ten million people, we continued our journey further to the east of the island Java. The train infrastructure is surprisingly good, with beautiful views! It runs through the mountains, rice fields, jungle, and over rivers. The first train stop is Bandung, where we only spent one day to visit the "Institut Teknologi Bandung" and talk about Flo-Bro.

A nine-hour train ride then brings us in the middle of the night in the cultural centre of Yogjakarta, where we are crammed into a surprisingly small Riksja with our big bags, who brings us to our hostel. In the train we met a woman from Bandung, who showed us pictures of a small tornado and flooding in Bandung, just hours after we left. So, we dodged the bullet once again, just like in Huế, Vietnam, when we were still on our motorbikes.
The days in Yogjakarta were spent on a black volcanic sand beach, exploring the surroundings on a scooter, eating the best Saté we ever had, and another visit to an university.
But the absolute highlight of our trip to this city was Gunung Merapi. Our alarm was set at 03:00 AM to ride almost two hours to the Setumbu hills. We got here just before 05:00 AM to watch the sun rise over Borobodur and the volcano, an absolutely magical view. A little further up the hill we found in interesting temple, in the shape of a chicken…

Another two-hour ride through fantastic scenery brought us to the foot of Gunung Merapi, which means fire mountain in Indonesian. With its 2930 meter in height, it is the most active volcano in Indonesia, and the last time it erupted lava was in 2010. An intense three-hour hike through jungle, volcanic sand, and rocks, and we were at the very top of Gunung Merapi, looking right into the smoky crater.

From Yogjakarta we took a night train to Malang, the best place to book a tour to another volcano called "Bromo". However, the price to go to this number 1 tourist destination in Java, was a casual 1 million Indonesian Rupiah per person, about €70,-! We didn't feel much for spending more than double our daily budget on a touristic tour in a jeep, so we were determined to find a more adventurous and cheaper way to get up the volcano.
It took us about a day to get to Cemoro Lawang with several local busses. Together with some other people we met along the way, we found a cheap guesthouse where we could sleep for a few hours. With our eyes still half closed we woke up at 02:45 AM and had an easy walk, compared to Gunung Merapi, to the viewpoint "King Kong" to watch the sun rise over volcano Bromo.

We then jumped on the back of a motorbike to descend through the volcanic sand to the crater of Bromo. A small hike up the crater and we were once again staring right into the seemingly endless hole that is blazing smoke into the air. In the end, we paid about a tenth on transport of the price that the tourist office charged us in Malang, and most likely had a much more authentic experience than the people who are stuck in a traffic jam in a jeep on their way up to Bromo!